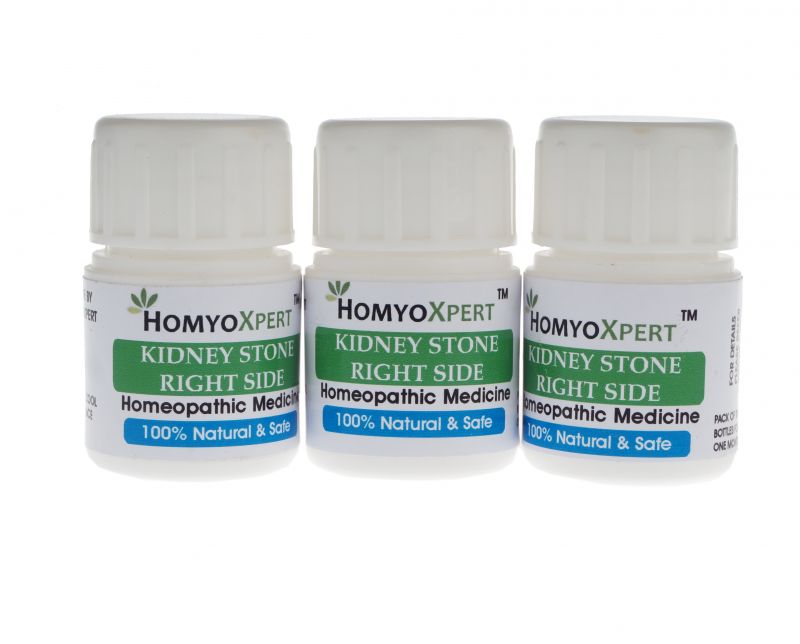 Belladonna
 Renal calculi with sharp, shooting pains. Come suddenly, crampy straining along ureter, during passage of calculus. Feverish and excitable. "Irritation and clutching and spasm where there are little circular fibres in small canals- as in gall-stones (which see) or in renal calculi." Bell. is red, and hot, and dry: hypersensitive,  especially to jarring. Bell. pains come and go suddenly.
Benzoic acid
 Nephritic colic with offensive urine.Urine deep-red, of strong odour:-dark brown; smells cadaverous, putrid. Urine alternately thick like pea-soup, then clear like water. But patient feels better when urine is profuse, thick and offensive: suffers in joints-heart- when it is clear and scanty. Highly intensified urinous odour.
Berberis
 "Excellent remedy for renal calculi." Pains shoot: radiate from a point . Cannot make the least motion: sits over to painful side for relief. Sharp, darting pains following ureter and extending down into legs. Pains run up into kidneys and down into bladder. Formation of little calculi like pin-heads in pelvis of Kidney, start to go down to bladder, with great suffering. "You will be astonished to know how quickly Berberis will relieve this particular colic." "Anything that is spasmodic can be relieved instantly.'-Kent. Burning and soreness, lumbar, in region of kidneys. Cannot  bear any jar : has to step down carefully. Urine dark, turbid, with copious sediment: slow to flow:  but constantly urging. May be associated with biliary calculi.
Calcarea carb.
Gravel: urinary calculi. In a Calc. patient: chilly: cold sweating feet: sweating face: head sweats at night. Often fat, flabby and weak. Lethargic. Longs for eggs.
Cantharis
 One of the best remedies during the paroxysms of renal colic. Pain and excitement found in no other remedy. Pains lancinating, cutting, stabbing like knives, shoot off in
different directions. Burning pain, with intolerable urging to urinate. Tenesmus. Sits and strains and gets no relief. "if he could only pass a few drops more urine (or a little more bloody stool) he would get relief: but no relief comes. Intolerable urging, before, with and after urination: violent pain in bladder" (Cystitis). Thirst, with aversion to all fluids. "The burning pain and intolerable urging to urinate point to Canth. in all inflammatory diseases of others parts."
Chimaphila umb.
 Constant pain in region of kidneys. Fluttering sensation in kidneys. Catarrh of bladder caused by stones. Smarting pain from neck of bladder to end of urethra.  Great quantities of thick, ropy, bloody mucus in urine. Urine colour of green tea. Queer symptom: feels as if sitting on a ball. Worse damp weather: washing in cold water.
Hydrangea
Has been used for the intense pain of gravel and calculus. Relieves distress from renal calculus, with soreness kidney region and bloody urine. "The thirstiest plant known (diabetes).